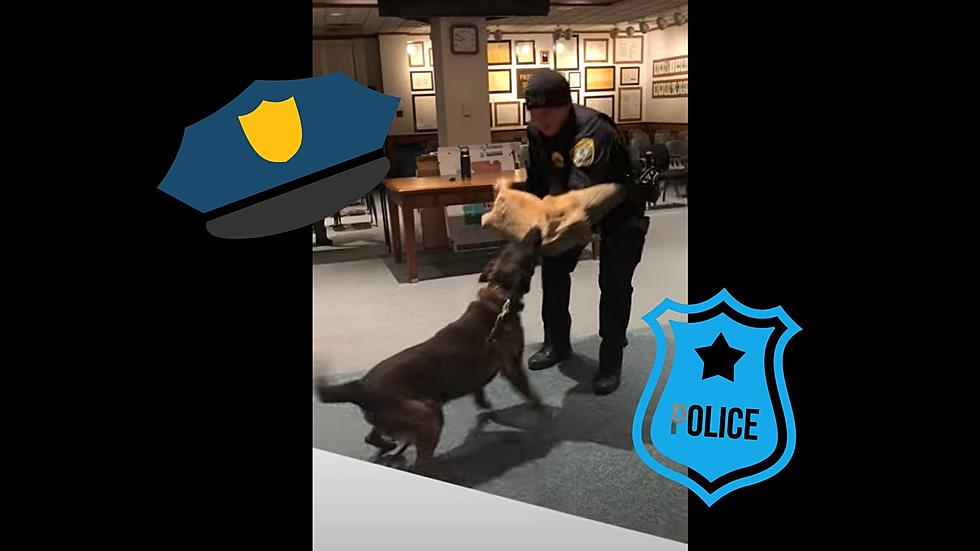 Video of Quincy's Police Dog doing a Training Exercise
YouTube/97.9 KICK-FM/Canva.com
Check out this video of the Quincy Police Dog in action doing a training exercise at City Hall, we here in the Gem City are lucky to have an officer like Graig Russell and his dog partner Dioji.
This is a video that I (Mark Hespen) took myself of a demonstration I got to watch of Street Crimes Officer Graig Russell and his dog partner Officer Dioji (pronounced D-O-G get it?) showing off the skills of the police dog.
I am a part of the Citizens Police Academy class and before this video was taken I had the pleasure of getting to listen to Street Crimes Officer Graig Russell talk extensively about his partner Officer Dioji, he told me and the class all about the training that he and the dog have, some of the cases that they have worked on together, as well as doing a drug-sniffing demonstration where Dioji found the drugs almost instantly. The video shows off Officer Dioji's skills at taking down a bad guy, and let me say the video doesn't do Dioji justice, being in the room with him and seeing how powerful and intelligent he is was just breathtaking.
I have really enjoyed being a part of the Quincy Police Department's Citizens Police Academy so far, I'm about halfway through the program and I have learned so much about what our police officers do on a daily basis to keep our community safe, I highly recommend joining the class if you ever have the chance, I feel lucky to be in a community with officers like Craig Russell and his partner Dioji.
LOOK: Here Are 30 Foods That Are Poisonous to Dogs
To prepare yourself for a potential incident, always keep your vet's phone number handy, along with an after-hours clinic you can call in an emergency. The ASPCA Animal Poison Control Center also has a hotline you can call at (888) 426-4435 for advice.
Even with all of these resources, however, the best cure for food poisoning is preventing it in the first place. To give you an idea of what human foods can be dangerous, Stacker has put together a slideshow of 30 common foods to avoid. Take a look to see if there are any that surprise you.
More From KHMO-AM 1070, News-Talk-Sports