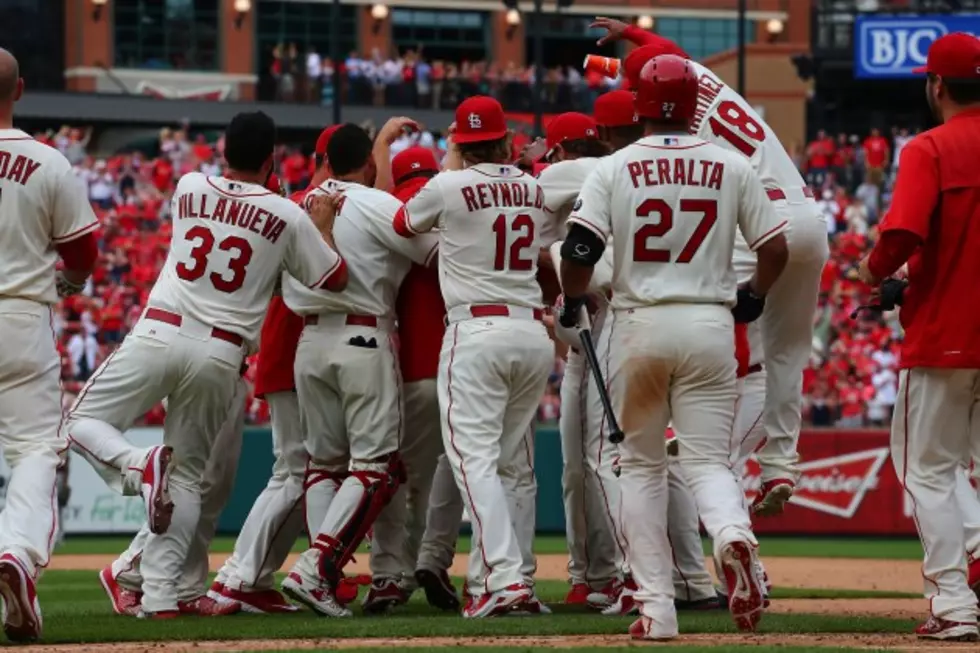 One Month Down for the 2015 St. Louis Cardinals
Dilip Vishwanat
Getty Images Sport
It's the best start in Major League Baseball this year.
So far, so good. The St Louis Cardinals are 18 and 6 through the first four weeks. That's good for a 4 and a half game lead on the Cubs as play finished on Sunday. One month down, five to go.  The Cubs, Reds and Pirates are bunched up around the .500 mark and the Brewers have taken up residence in the division cellar.
What's behind the start? Pitching is the number one reason, but pitching is almost always where a team is in the standings. The Cards team earned run average is 2.21. Opposing hitters are batting just .227.  Cardinal pitchers have issued 63 walks. That's the sixth lowest total in baseball. The solid pitching—even with Adam Wainwright on the shelf is covering well for an inconsistent offense.  Even without Waino, the Cards pitching is the best in the division. It may stand up as the best in baseball this year. If that is the case, thank the Cardinals for building organizational depth over the last decade or so.
The things that concern me about the Cardinals are offensive matters.  Matt Holliday and Matt Carpenter are carrying the offense at the one month mark.  Both seem to always be on base. Jhonny Peralta is off to a better than usual start too.  Newcomer Jason Heyward is hitting just .211 with a pair of home runs. I suspect he'll break out fairly soon. Matt Adams struggled early, but he's caught fire and is now hitting .309 with three home runs.
However, it is much too soon to print the tickets for October baseball in St. Louis. I stand by my preseason prediction that the NL Central is wide open until after Labor Day. Cincinnati is healthy again. As we saw over the weekend, Pittsburgh also has solid pitching. The Cubs are also much improved and must not be taken lightly.  My question about the '15 Cubs is how might they react to being in the thick of the race in mid to late September?  Milwaukee had a horrible start but the season is long enough for them to have influence on who gets to play October baseball this year.