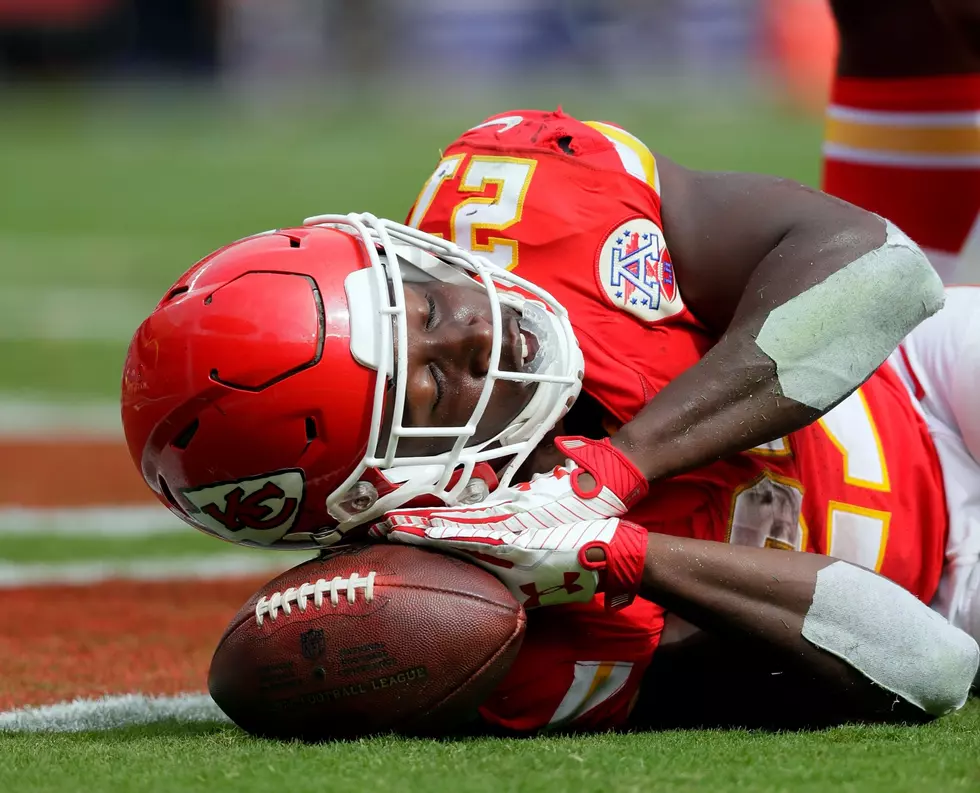 Hunt scores 2 TDs as Chiefs hold on to beat Eagles 27-20
Getty Images
Chiefs rookie Kareem Hunt reached the end zone twice, Travis Kelce took a shovel pass 15 yards for the go-ahead touchdown and Kansas City held on to beat the Philadelphia Eagles 27-20 on Sunday.
Kelce's touchdown catch with 6:25 left and Hunt's second TD scamper appeared to have put the game away.
But Carson Wentz hit Nelson Agholor for an answering score with 14 seconds left, and Trey Burton jumped on the onside kick a few seconds later to give the Eagles one last throw to the end zone.
Wentz unloaded from just inside the 50-yard line, but his pass fell incomplete as time expired.
Kelce finished with 103 yards through the air, highlighted by his somersaulting score. Hunt had 81 yards on the ground, building on a record-setting debut in which he piled up 246 yards from scrimmage in a season-opening victory in New England.
Alex Smith had 251 yards passing for the Chiefs (2-0). Cairo Santos was 2 for 2 on field goals.
Wentz finished with 333 yards and two touchdowns passing, despite facing relentless pressure all afternoon. The spunky quarterback also led the Eagles (1-1) with 55 yards rushing.
It was 13-all in the fourth quarter and Philadelphia had the ball when Wentz threw a pass that bounced off the Chiefs' Justin Houston and into the arms of Chris Jones. The pick gave Kansas City the ball deep in Eagles territory, and Kelce hurdled into the end zone five plays later.
It was sweet atonement for the talented but troublemaking tight end, who earlier in the half got an earful from coach Andy Reid when he picked up a 15-yard penalty for taunting.
The Chiefs' defense, missing star safety Eric Berry to a season-ending injury, kept the Eagles in check most of the game — and for good reason. They're coached by Doug Pederson, who spent several years as the offensive coordinator in Kansas City and took the same system with him to Philadelphia.
JONES-ING: Along with his interception, Jones also piled up three sacks in a dominant performance for the second-year pro. The Chiefs' defensive tackle even left briefly in the second half and appeared to be checked for a concussion before returning to the field.
GETTING COMFY: After struggling last week against Washington, Alshon Jeffery appeared to get on the same page with Wentz at Arrowhead Stadium. He finished with seven catches for 92 yards.
CLIPPED WINGS: The Eagles' ailing secondary lost two more players when starting safety Rodney McLeod and backup cornerback Jaylen Watkins left with hamstring injuries in the first half. Philadelphia was already without starting cornerback Ronald Darby because of a dislocated ankle.
NAMING RIGHTS: The Chiefs renamed the TV booths at Arrowhead Stadium in honor of Len Dawson, their Hall of Fame quarterback and broadcaster. He is retiring from doing radio analysis after the season.
More From KHMO-AM 1070, News-Talk-Sports