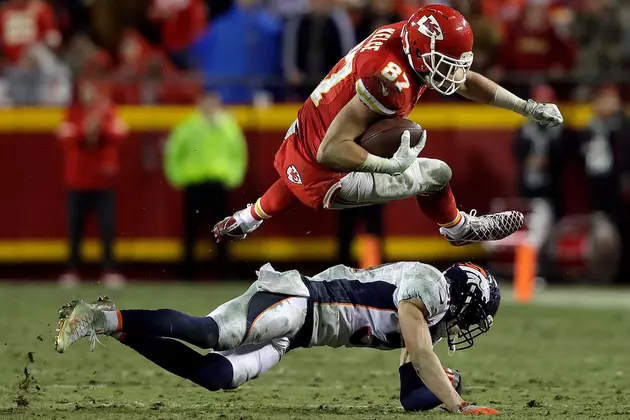 KHMO's Bill Shuler Takes a Look at the Chiefs 2017 Schedule
Getty Images
No complaint here about the Chiefs 2017 schedule.
I don't pay attention to all the articles talking about how tough or how easy a given team's NFL schedule is. There is no way to tell right now. A year ago, no one had Atlanta as a Super Bowl grade team. Remember 1999? No one had St. Louis anywhere near a Super Bowl when the schedule was released. A year ago, Tampa Bay and Tennessee at Arrowhead looked like W's for the Chiefs by the conventional wisdom. Both were playing solid football by the time they played the Chiefs and both cashed in on mistakes to get wins.
Of the teams on the Chiefs schedule, New England and Pittsburgh figure to be tough assignments. The Jets and Chargers figure to be relatively easy. Everyone else on the schedule could go either way.
The Chiefs have a chance at a good start. Giving Andy Reid 4 and a half months to game-plan New England is a plus. Home games against the Eagles and Redskins aren't a bad thing. Carson Wentz and Kirk Cousins will be Arrowhead first timers and that works in the Chiefs favor. The Charger organization is a mess. A 3-1 or 4-0 start wouldn't be a shocker here.
The next four games present challenges. Pittsburgh, a Thursday night game in Oakland and a Monday night game at home against Denver wrap up the first half of the schedule. A short turnaround and a trip to Oakland is a challenge. The Raiders may be very good, or they may implode. No way to tell from here. Likewise for the Chiefs November 5 game at Dallas.
Once again, the NFL scheduler was kind to the Chiefs down the stretch. Four of the last six games are at Arrowhead including the Raiders, Chargers and Miami. Gotta love warm weather teams as December visitors in Kansas City!
More From KHMO-AM 1070, News-Talk-Sports