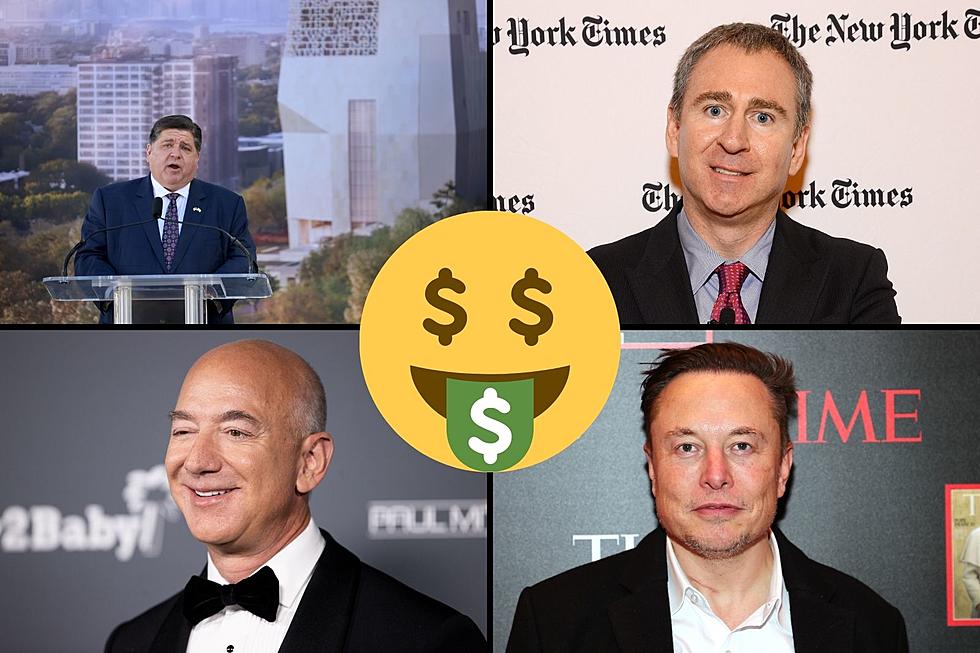 Illinois List the Top 10 Billionaires in The State
Getty Images/Canva
You know what they say Mo' Money, Mo' Problems, but these top 10 billionaires in Illinois top the Forbes list of richest in the state.
Based on jobs in finance, technology, fashion, retail, and more Forbes has announced the top billionaires in every state and Illinois has a few names making the list.
#10 - J.B. Pritzker ($3.6 billion - hotels & invenstments)
#9 - Eric Lefkofsky ($4.1 billion - Groupon)
#8 - Mark Walter ($4.5 billion - finance)
#7 - Ty Warner ($4.7 billion - plush toys & retail)
#6 - Thomas Pritzker ($5.1 billion - hotels & investments)
#5 - Neil Bluhm ($5.5 billion - real estate)
#4 - Sam Zell ($5.9 billion - real estate & private equity)
#3 - Joe Mansueto ($6.0 billion - investment research)
#2 - Partick Ryan ($8.1 billion - insurance)
#1 - Ken Griffin ($28.4 billion - hedge funds)
Griffin is also ranked #52 as being the wealthiest in the world and not even close to the top three richest billionaires in the world. So who are the richest men in the world?
#5 - Warren Buffett - $125 billion
#4 - Bill Gates - $133.7 billion
#3 - Bernard Arnault & Family - $167.9 billion
#2 - Jeff Bezos - $184.4 billions
#1 - Elon Musk - $278.7 billions
What would you do with all that money? I mean it's endless on what you could buy, vacation at, fancy meals you can have, and you wouldn't have to worry about anything (financially anyway) for the rest of your life.
Inside Amazon: A Detailed History of America's Biggest Online Retailer
Stacker
compiled a list of key moments in Amazon's history and its current business from a variety of sources. Here's a look at the events that turned an online bookstore into a global conglomerate and a self-made entrepreneur into the world's second-richest man.
10 Pizza Joints in Illinois So Delicious You'll Be Asking for Seconds
Not all pizza is created equally. Here are 10 examples of some of the best pizzas that all taste just a bit different from the rest in Illinois.
More From KHMO-AM 1070, News-Talk-Sports