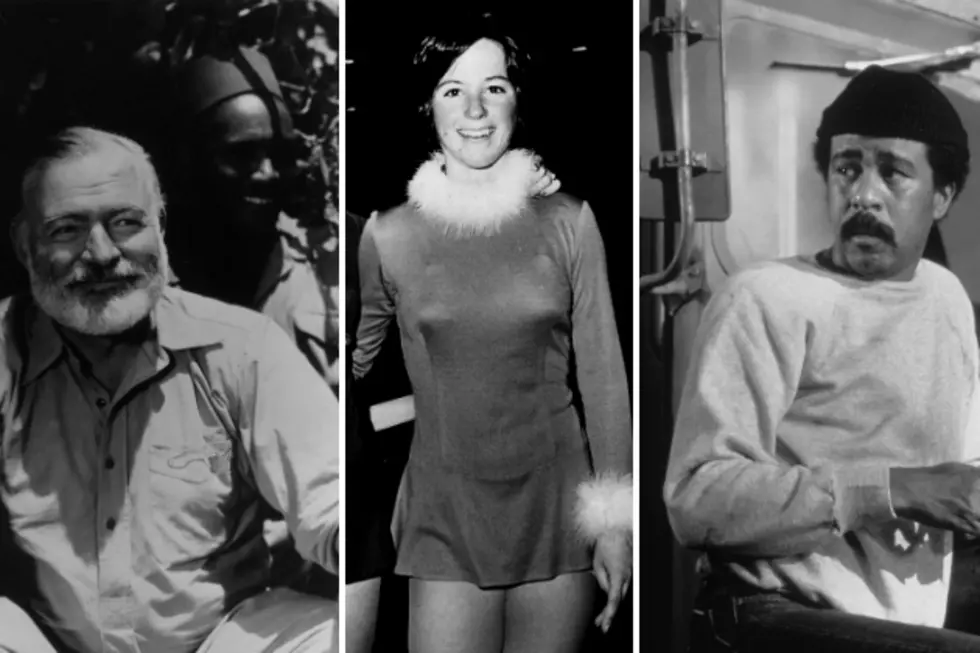 Historical Figures From Illinois
Hulton Archive
The great state of Illinois is known for being more than just the Land of Lincoln. It's also the land of Hemingway, Heston, Benny, and many other notable American figures.
The informational sources found at 50states.com and biography.com serve as great starting points for any research about our 50 United States.
The acclaimed journalist and writer of such famous novels as For Whom The Bell Tolls and The Old Man and the Sea was born July 21st, 1899 in Cicero, which now lies in the city of Oak Park. Along with writing his famous novels, Hemingway would go on to win both the Pulitzer and the Nobel Peace Prize before his suicide in 1961.

Charlton Heston, the actor who would star in epic films such as The Ten Commandments and Ben-Hur, was born John Charles Carter on October 4th, 1923 in Evanston. He would take his stepfather's last name, Heston, and his mother's surname, Charlton, as his professional title. Along with building a successful film and stage career, Heston marched on Washington D.C. with Dr. Martin Luther King, Jr. for Civil Rights, help form the American Film Institute, and serve as president of the National Rifle Association before his death in 2008.

Radio entertainment pioneer Jack Benny was born in the metropolis of Chicago on February 14th, 1894. He discovered his skills for comedy and music through the 1920s and became the "King of Radio" and a forerunner in the sitcom genre in the 30s with "The Jack Benny Program". The program would spend 15 years on television before its end. Afterwards, Benny made guest appearances on various television programs before his death in 1974.

Acclaimed Olympic figure skater, and "America's Sweetheart", Dorothy Hamill, hails from Chicago and was born on July 26th, 1956. Hamill is known for her success in the sport of figure skating both in and outside of the Olympic arena, winning gold at the 1976 Winter Olympics in Innsbruck and the '74 and '75 World Championships before that. Hamill has also toured with the Ice Capades from '77 to '84 and won a Daytime Emmy for her 1983 performance in Romeo and Juliet on Ice.

Pryor, born in Peoria on December 1st, 1940, could be counted partly responsible for the careers of many of today's premiere comedians. In his childhood, Pryor would find his only solace from the many and monumental struggles of him and his family would be found in going to the movies. This was what first inspired him to pursue comedy. His storytelling style of stand-up comedy, then still widely unpopular, eventually  revolutionized the genre. Pryor was also one of the first comedians to cover hot button social topics like race and prejudice in as explicit a manner as he did. He went on to star in multiple successful films like Silver Streak and Harlem Nights. Pryor also was a writer for the show Sanford and Son and the Mel Brooks film Blazin' Saddles. Richard Pryor's innovative comedic style would inspire countless other comedians after him, both famous and small-time. Pryor was diagnosed with multiple sclerosis in 1987 and dies of a heart attack in 2005 in a Los Angeles hospital.

This famous poet was born in 1878 in the town of Galesburg. After fighting in the Spanish-American War, Sandburg relocated to Chicago to find work as a journalist. In 1914, his poetic work, much of which focused on the American worker, was published in Poetry magazine. Sandburg is also famous for writing his Pulitzer Prize-winning biography of Abraham Lincoln titled Abraham Lincoln: The War Years. He passed in 1967.

This acclaimed star of stage and screen was originally born Lucille Vasconcellos Langhanke in 1906 in Quincy. Astor is best known for her role opposite Humphrey Bogart in The Maltese Falcon. Astor also won an Oscar for her supporting role in The Great Lie. She and playwright George S. Kaufman caused a major scandal at the time with the discovery of the romantic affair between her and the playwright. Astor died in Woodland Hills, California in 1987 at the age of 81.
More From KHMO-AM 1070, News-Talk-Sports