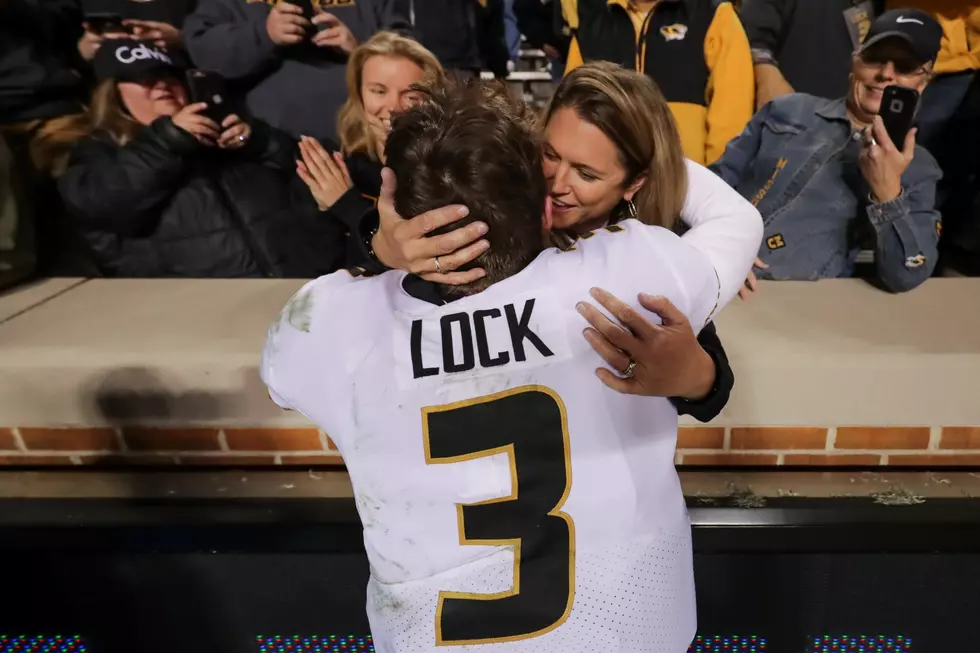 Missouri trounces Tennessee 50-17 for third straight win
Getty Images
Missouri quarterback Drew Lock remembers how Tennessee fans roasted him on social media after the Tigers hired Derek Dooley as offensive coordinator.
"I still had Twitter at that time and I was getting tagged in all of these tweets from Tennessee people, (saying), 'Aww, Drew Lock's got Derek Dooley now. Here he goes down the drain, Blah, blah, blah,'" Lock said.
Lock issued one heck of a response Saturday as Missouri trounced the Volunteers 50-17 in Dooley's return to Tennessee, which fired him as head coach six years ago.
With Lock throwing two touchdown passes and Larry Rountree rushing for 135 yards, Missouri (7-4, 3-4 SEC) breezed to its third straight victory. This win had to be particularly sweet for Dooley, who went 15-21 as Tennessee's coach from 2010-12.
Rather than going down the drain under Dooley, Lock is moving up the Southeastern Conference rankings for career passing yardage.
Lock went 21 of 30 for 257 yards Saturday and now has thrown for 11,599 yards in his career to reach second place on the SEC's all-time list. Lock overtook David Greene, who passed for 11,528 yards at Georgia from 2001-04.
"That feels really good," Lock said. "That is definitely really cool, especially to be able to do it here with Coach Dooley."
The SEC record holder is Aaron Murray, who compiled 13,166 career passing yards for Georgia from 2010-13.
Ty Chandler had two touchdown runs for Tennessee (5-6, 2-5), which lost starting quarterback Jarrett Guarantano to an injury after he was sacked twice in the first quarter . Keller Chryst replaced Guarantano early in the second period and went 7 of 19 for 173 yards with two interceptions.
"Missouri outcoached us, outplayed us today," Tennessee coach Jeremy Pruitt said.
Pruitt had no postgame update on the status of Guarantano or wide receiver Marquez Callaway, who also was knocked out of the game after catching two passes for 98 yards.
Missouri outgained Tennessee 117-(minus-17) in the first quarter but only had a 6-0 lead to show for it after two drives stalled in the red zone, forcing the Tigers to settle for field goals.
The momentum briefly changed after Chryst entered the game. Chryst's 41-yard completion to Jauan Jennings on a third-and-6 play set up a 5-yard touchdown run from Ty Chandler that put Tennessee ahead 7-6.
Missouri went back ahead for good with a touchdown on its next drive, beginning a stretch of four straight possessions in which it reached the end zone.
With Tennessee trailing 19-10, the Vols reached Missouri's 28-yard line in the final minute of the half before DeMarkus Acy picked off a Chryst pass and delivered a 76-yard interception return. That turnover put Missouri at Tennessee's 11 to set up Lock's 3-yard touchdown pass to Johnathon Johnson, which gave the Tigers a 26-10 advantage.
"We had a chance to put some points on the board and we make a bad throw and they run it (most) of the way back, at least a 10-point swing there," Pruitt said.
After both teams reached the end zone on their opening possessions of the second half, another Tennessee turnover put the game out of reach.
Tennessee's Carlin Fils-aime fumbled on his only carry of the night, and Joshuah Bledsoe picked it up and ran 39 yards for a Missouri touchdown that made it 40-17.
"I didn't think we'd be in position in the third quarter to milk the clock," Missouri coach Barry Odom said, "but that is the way the game unfolded."
Missouri: Don't bet against the Tigers in November. Missouri improved its November record to 9-2 under Odom, who's in his third year on the job. The Tigers won easily Saturday even though an ankle injury limited Damarea Crockett to three carries for 10 yards after he rushed for over 100 yards each of the last two weeks. Missouri has won its last eight November games. Last year, the Tigers won their final six regular-season games before falling to Texas in the Texas Bowl.
Tennessee: The Vols still can become bowl eligible by winning at Vanderbilt, which would represent a giant step forward for a program that finished 4-8 and went winless in SEC competition last year.
"We want to go to a bowl game, we've got to go get it," Chandler said. "It's not going to be handed to us."
Missouri linebacker Tavon Ross got a targeting penalty in the first half. Tennessee linebacker Shanon Reid and Missouri defensive end Nate Anderson drew targeting penalties in the second half, which means the two of them won't be able to play in the first half of their regular-season finales.
Missouri hosts Arkansas on Friday.
Tennessee visits Vanderbilt on Saturday.
More From KHMO-AM 1070, News-Talk-Sports