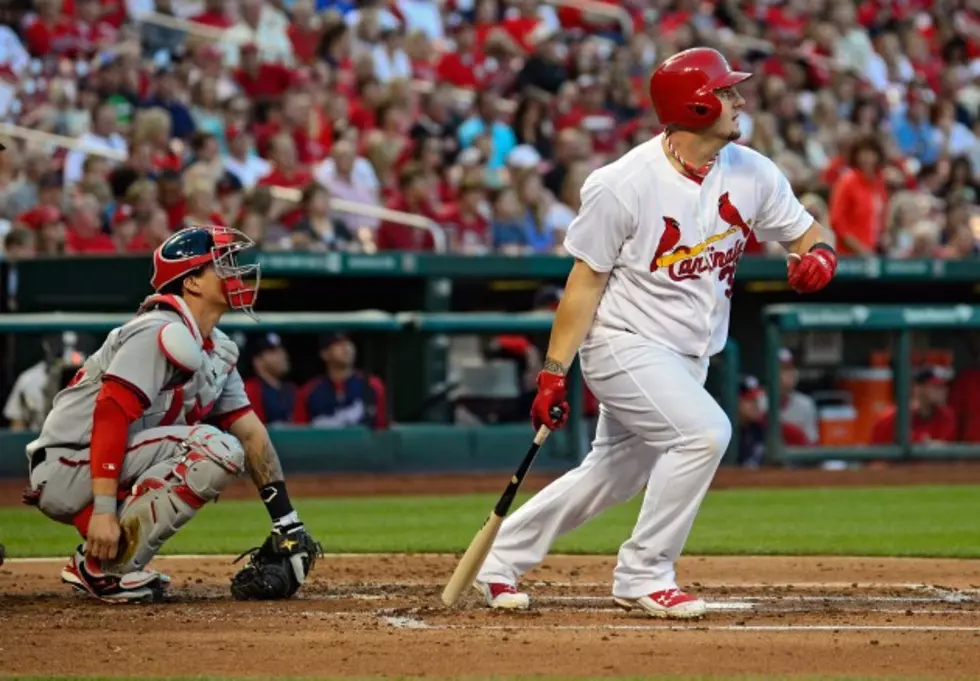 Adams Powers Cards to 4 to 1 Win Over Nats
Jeff Curry/Getty Images
ST. LOUIS (AP) - Matt Adams connected off Stephen Strasburg in St. Louis' three-run seventh inning, and the Cardinals beat the Washington Nationals 4-1 Saturday night..
The Cardinals batted around in the seventh with the help of two infield hits, a hit batter and two walks, one of them by Matt Holliday with the bases loaded.
(The Cards try for a sweep Sunday. Hear the action on KHMO.  Pregame begins at 12:20.)
ST. LOUIS (AP) - St. Louis Cardinals ace Adam Wainwright will skip a turn in the rotation to allow tendinitis in the back of his pitching elbow to subside. General manager John Mozeliak said yesterday it hasn't been determined who will take Wainwright's spot on Monday night against the Mets.
Kansas City 9, Chicago White Sox 1
L.A. Angels 11, Atlanta 6, 13 innings
Oakland 5, N.Y. Yankees 1
Philadelphia 7, Chicago Cubs 4
Colorado 5, San Francisco 4
Milwaukee 4, Cincinnati 2
L.A. Dodgers 6, Arizona 4
In Prospect League baseball, the Hannibal Cavemen traveled to Springfield to battle the Sliders.
Hannibal slips past Springfield by a score of 5 to 4, bringing their record to 9 and 6 on the season. The Cavemen return home for their next game Monday.  It will be Canine Night Monday as Hannibal hosts the Gems at Clemens Field.  Gates open at 6 p.m.  If you can't attend the game, you can listen right here.
Speaking of the Gems, Saturday night's victory for the Gems means they are sitting in
first place in the Prospect League's West Division after their 4-3 win over Danville.  The Gems play Springfield tonight at home.