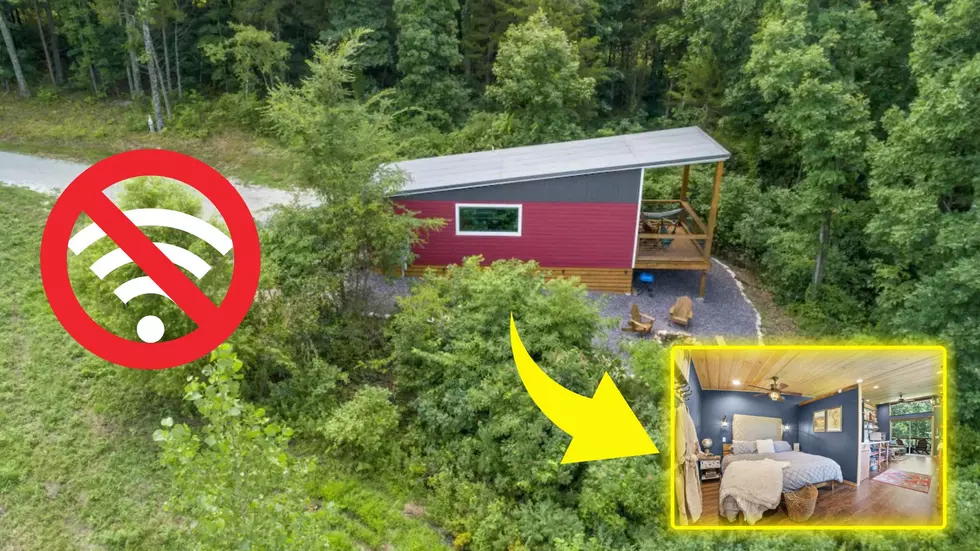 This Missouri Tiny House with No Wi-Fi (and That's a Good Thing)
Tiny home hosted by Carisa, Airbnb/Canva
If you're looking to get away from it all, that also means getting away from devices and specifically Wi-Fi. I found a tiny house hidden in the woods of Missouri's wine country and it does not have Wi-Fi and that's a good thing.
This is a tiny house hosted by Carisa near French Village, Missouri. FYI - that's in the middle of the wine goodness in a gorgeous part of Missouri. Here's a little snippet of how she described it on Airbnb:
Our tiny house is a cozy 600 sq ft open concept layout. It is surrounded by 10 acres of woods & fields. Our deck is nestled in the woods and a perfect area to relax in the hammock and listen to nature. We have a fire pit and comfortable Adirondack chairs to relax in...***DISCLAIMER!!! There is NO wifi on purpose & by design. You are in the middle of the woods.
This place is bigger inside than it looks on the outside.
This Missouri Tiny House with No Wi-Fi (and That's a Good Thing)
I love just about everything about this place. That's an amazing area in Missouri and the seclusion away from the rest of the world would be sweet. As of this writing, the nightly cost is $127. Carisa has even more pics, details and availability on her Airbnb listing.
What It's Like to Stay in a Tiny Cube Home in the Missouri Woods
This Missouri Mansion Has a Water Park, Arcade & Bowling Alley
More From KHMO-AM 1070, News-Talk-Sports