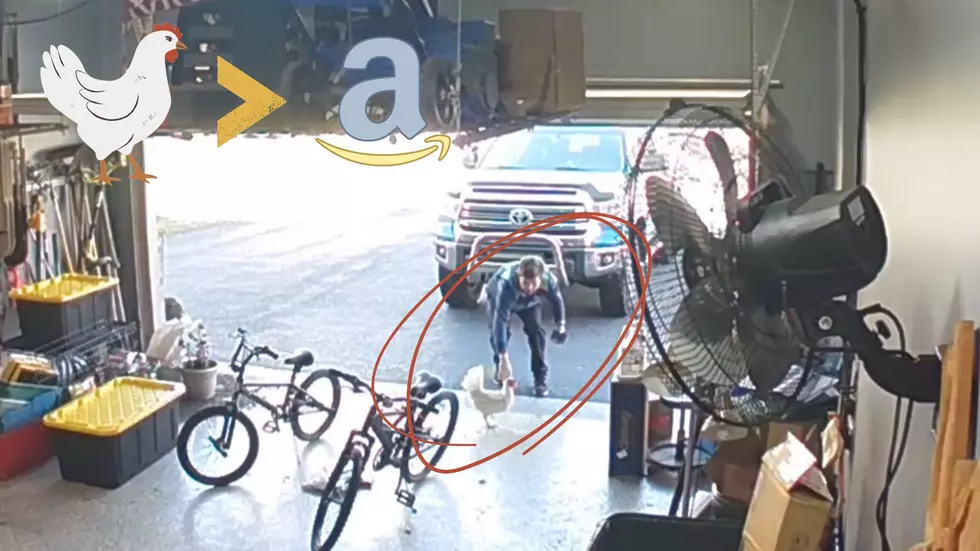 Watch Illinois Amazon Guy Get Outsmarted by a Chicken Named Fancy
ViralHog via Rumble/Canva
This is the favorite thing I've seen on the internet in weeks. It's the saga of one Amazon driver in Illinois who could not find a way to outsmart a chicken named Fancy.
According to the video description, this fun chicken versus man moment happened last Friday in Minooka, Illinois. Here's the backstory of this riotous frolic:
Fancy the chicken was in the garage roaming and an Amazon delivery guy opened the garage door for a delivery. Fancy ran out of the garage and proceeded to follow the driver as she loves human interaction. The driver then goes back and forth trying to get Fancy contained in the garage so he can close the door and leave. Fancy is staying in the garage/house because she is injured and needs to be separated from the other chickens. So she is very used to people coming in and out.
Fancy loves humans. All this video needs is either Benny Hill music or the William Tell Overture added to be perfect.
I found myself cheering wildly for the chicken every time this guy tried to get the garage door down, but that's just me. I do want to give the Amazon driver some credit for being patient and caring that the animal is not harmed or get loose. He must be a real upstanding guy to go to so much trouble to take care of Fancy. Seriously, dude. Well done.
See Inside a Cozy Tiny Farmhouse in Wilmington, Illinois
More From KHMO-AM 1070, News-Talk-Sports